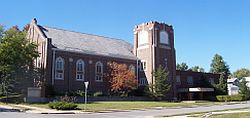 Grace St. John's United Church
of Christ
4120 South Webster
Fort Wayne, Indiana 46807
Phone #: 260-745-4951


Pastor's Message
Resurrection's Gifts
February 14, 2018
Dear Friend,
The gifts we are born with and those that we work to develop throughout our lives vary in form and function. Some we find use for every day while others are only useful in specific circumstances, yet we often forget that the gifts we've been given weren't meant to be squirreled away out of sight. Every gift, coming as it does from a Loving God who is crazy generous with each of us, is meant to be shared. So often we get locked into our possessive thinking and try to pretend that these gifts are "ours" or that somehow we can take credit for them. In that mindset it's certain that we will overlook opportunities to share our unique gifts with others. Sometimes it's our ego, but other times it might be fear of criticism or a fear of the future that is sometimes paralyzing. Most often, in my opinion, we withhold our gifts because we doubt that our talents and skills can truly add value to others' lives, even though the Gospel makes it clear that the smallest offering can impact the world. Whether we have been blessed with the ability to awaken beauty in others through art or industry, or our aptitudes transmit more practical advantages, our gifts are a part of who we are. As we offer our gifts openly, we know that we are only following in the footsteps of Jesus, the one who lights our path. Our personal power is defined in part by our gifts. To use our talents is to demonstrate gratitude to God and love to the world: it shows we know and love ourselves for who we were made to be. Life may well be short, but our existence provides us with ample opportunites to explore our purpose, to utilize our skills in a life-affirming way, and to positively touch the lives of others while doing so.
Whenever we fall into the comparison trap, we suspect that our gifts are not as worthy of attention as those of others, so we're tempted to hide them. Yet you may feel that your gifts are not as valuable or worthy of attention as those of others and thus hide them away. However, every gift lying dormant in your soul has the potential to fill a void in someone else's life. Just as your existence is made richer by the love, support, friendship, aid, and compassion of others, so, too, can you add richness to their lives. Your natural ability to soothe hurt, inspire compassion, bake, dance, knit, organize, or think outside the box can be a boon to someone in need.
As you embrace your gifts and allow their light to shine, you will discover that more and more opportunities arise for their use. This is because your gifts are a channel through which God's victory operates. By simply doing what you are good at , you are gratefully embracing the new life message of Easter. And when the day arrives when you realize that being recognized for your gifts is much less satisfying than knowing you're helping someone else, you will have entered deeply into the mystery of Love itself.
Fr. Michel