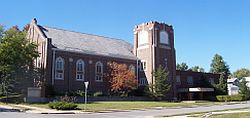 Grace St. John's United Church
of Christ
4120 South Webster
Fort Wayne, Indiana 46807
Phone #: 260-745-4951


Pastor's Message
The Journey Ends and Begins
April 13, 2017
A Note from the Pastor
Dear Friend,
I remember during the 1980s when a number of my friends became a little obsessed with detoxing their bodies of the effects of fast food and improper diet. They drank certain teas and took certain supplements that were alleged to remove the residual toxic effects of modern living and to restore the body's natural balances. I myself tried a few "juice fasts" to achieve the same sort of physical homeostasis--only to feel much the same at the end of the so-called detoxing process. Pseudo-scientific claims aside, Lent is a period when we try to detox our spirits: we set aside the things that we know are not in our highest good and choose good things that we know are lacking--acts of caring, more attentive prayer, and a more open attitude toward God's will for us. Like the physical detox process, the spiritual detox, too, can bring aches and flu like symptoms. If we're serious about our Lenten journey, we may find ourselves feeling fatigued and even sad, as if we might be coming down with something. This is a natural part of any cleansing process and commonly accompanies deep inner-work. As we are called to examine our attitudes and actions, which often prompts deep changes, our bodies and spirits may grow tired. Feeling under the weather is one cue that it's time to slow down and go easier on ourselves. There is a time to push through and forward, and there is a time to pull back and go easier on ourselves. Part of our ongoing challenge as Christians is to learn to listen to our inner divine selves as we discern that path to take next. This evening begins the Easter Triduum, the three day celebration of the very heart of our faith: the suffering, death and resurrection of Our Lord. The sorrowful purple of Lent is put away beginning today, as the whole Church Universal comes together to remember the saving acts of Jesus. In other words, the time of journeying in the wilderness is drawing to a close and it's time now to readjust our focus by remembering how precious we are to God. Our Lenten journey may have fatigued us and left us feeling unworthy, but we are incomparably beautiful and valuable to God. We have a purpose in this life, and depending on where we are in the cycle of life our call is different from anyone else's. If we are young and strong, our call to service will be different than if we are in our retirement years, with somewhat different physical abilities. We perhaps thought that Lent would help us understand everything, but if we wait until we understand a situation completely before acting, we will never do anything. By letting go of too much thinking and by resting in the deep silence of God's presence we learn there is still so much valuable work we can do.
It is natural to go through times of feeling small and inconsequential, but not to worry, God has a plan for us. Periods of listening to God in prayer and slowing down the pace of our lives  should empower us to do even more for the Kingdom. The world is hurting and full of perils, and although we may have felt helpless in the past, the detoxification process of Lent should at least have reminded us that while we cannot do everything there are still things left for us to do. If one hurting soul can be helped by our gentle presence, then clearly we are still a vital part of God's saving plan.
Thank you for allowing me the privilege of accompanying you on this wilderness journey. I look forward to standing with you in the radiance of Easter joy.
Fr. Michel
Please join us this evening for the celebration of the Lord's Supper at 6:30 pm. This is a combined service with Grace St. John's and Holy Redeemer.
Tomorrow's Commemoration of the Death of the Lord is at 6:30 pm and is also a combined service.
Saturday is the Easter Vigil at 7:30 pm for Holy Redeemer.
Sunday is the Easter Celebration Service at 10:00 am for Grace St. John's.
(Note: there will be no noon Mass on Easter Sunday)