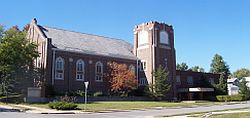 Grace St. John's United Church
of Christ
4120 South Webster
Fort Wayne, Indiana 46807
Phone #: 260-745-4951


History
Grace St. John's United Church of Christ is the product of a merger of two Reformed congregations established in 19th-Century Fort Wayne. St. John's Reformed Church, founded in 1844, used the German language in worship exclusively until 1908. English worship services were then phased in gradually through 1935.
On the recommendation of Rev. Dr. Carl Schaaf of the St. John's congregation, the Board of Home Missions of the Ohio Synod sent Rev. T. J. Bacher to Fort Wayne in 1883. Rev. Bacher led English-language services in a former Jewish Synagogue on Harrison Street and organized Grace Reformed Church the same year. Grace Reformed Church built their own facility on East Washington Blvd. in 1884. Seeking opportunities for church growth, the Grace congregation purchased property at Lexington & Webster in 1926, broke ground in 1927, and dedicated a new church building in 1928. Grace Church expanded their building to the north and dedicated the educational unit in 1969.
Both the St. John's and Grace congregations were a part of the merger of the Evangelical & Reformed denominations in 1934 and a subsequent denominational merger with the Congregational Christian Churches in 1957. The resulting denomination was called the United Church of Christ.
The St. John's and Grace United Churches of Christ merged in 1983 and worshiped together at Grace's facility at Lexington & Webster. St. John's Church downtown was sold in 1984 and later demolished.
Fr. Michel Holland was named pastor of Grace St. John's United Church of Christ in 2014.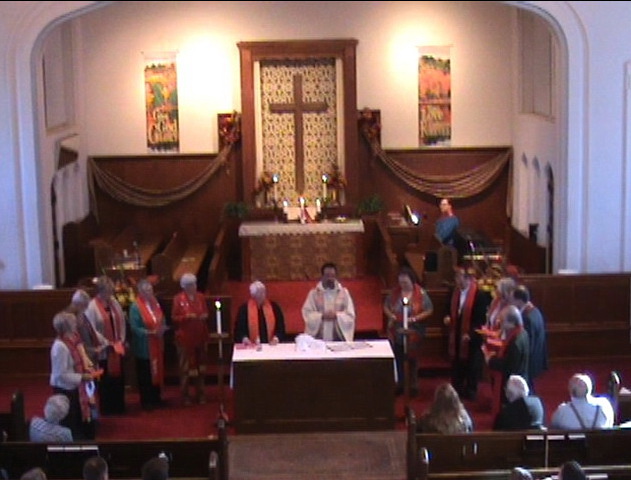 Clergy of several denominations celebrating Holy Communion
at the pastoral installation of Fr. Michel Holland
Oct. 26, 2014